Ground Flax Seed with Mixed Berries
Spectrum Essentials® has taken its best-selling Organic Ground Flaxseed and blended in bits of real fruit- blueberries, strawberries, cranberries, Raspberries and Elderberries. These berries are particularly well known for their antioxidant polyphenol levels and immune supporting qualities, making them as healthful as they are tasty.* *These statements have not been evaluated by the Food and Drug Administration. This product is not intended to diagnose, treat, cure or prevent any disease.
12 OZ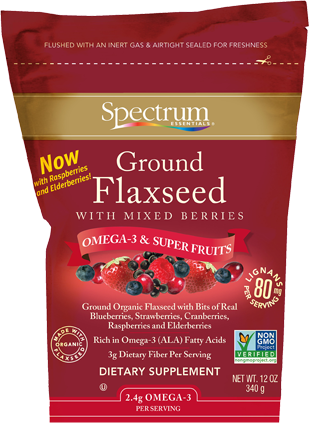 Organic ground flaxseed, dried lightly sweetened berries (cranberries, blueberries, strawberries, cane sugar, sunflower oil, ascorbic acid (Vitamin C), raspberries, elderberries.