Decadent Blend Chia and Flax Seed
Spectrum Essentials® Decadent Blend Chia and Flax Seed, with coconut and cocoa, brings together the health benefits of Omega-3 and fiber with the flavors you love*. An irresistible combination of coconut with the rich chocolate taste of Fair Trade Certified™ cocoa, this blend is sweet bliss. Try it sprinkled on hot cereals and yogurt, or in smoothies, puddings, pancakes, waffles and baked goods. *These statements have not been evaluated by the Food & Drug Administration. This product is not intended to diagnose, treat, cure, or prevent any disease.
12 OZ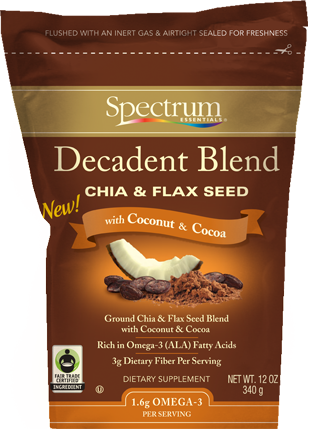 Cold milled ground chia seed, dried coconut, organic cold milled ground flax seed, organic fair trade alkalized cocoa powder, organic evaporated cane syrup.