Spectrum Essentials® Fish Oil Softgels provide the Omega-3 EPA and DHA fatty acids that help maintain cardiovascular function while supporting the normal development of the brain, eyes and nervous system*. Third-party tested to adhere to exacting standards of purity and freshness. *These statements have not been evaluated by the Food & Drug Administration. This product is not intended to diagnose, treat, cure, or prevent any disease.
100 Count, 250 Count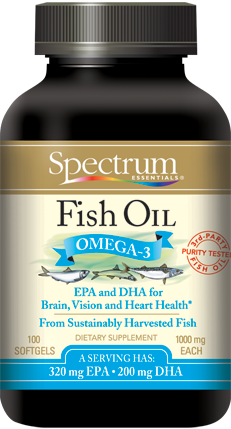 Ingredients: Fish oil (from anchovies, sardines and mackerel or a combination thereof), mixed natural tocopherols. Softgel (gelatin, water, glycerin).